Is there more to life than this?

Have you ever asked yourself this question?
Deep down most of us want to know if there's more to life than 9 to 5, paying the mortgage or rent or living for the next holiday or night out.
​Do we ever get off the merry go round of crazy busy lives long enough to look deeper?
​Can my life have purpose?
​Can I find a peace and contentment even in the midst of hard times?
​Is there a God? What does he think of me?
​What difference can knowing him make to my life each and every day?

​BEGINNING NEW LIFE explores questions like these by looking at life from the viewpoint of the Christian faith. It focuses on the life and teaching of man from Palestine who walked this earth 2000 years ago.
​This is the man, as you will see, was much more than a man; who amongst many things, said:
​'Come to me all you who are weary and burdened and I will refresh you.' & ' I have come to bring you life in all its fullness.'
​This man is Jesus Christ and as you work your way through this site we hope you will discover more about him and that you too will find you can lay down your burdens and discover the full, new life he offers.
---
How does BEGINNING NEW LIFE work?
There are 4 sessions to work through in order. You can do this at your own pace, whenever you get chance, even for a short time, then pick it up again later.
​You can access this on your smart phone or tablet, when you're on the bus or train, when you're waiting in a queue or wherever you can get a little space. You can access it at home, when you wake up, when the kids are in bed or when you're getting a bite to eat.
​Just click on the box with 3 lines at the top left of the page to access the sessions.
​
​Your local church would love to join you on this journey and will be able to help you go deeper!
​
BEGINNING NEW LIFE has come out of the life of St. David's Church, Holmbridge & All Saints Church, Netherthong. Click below for their websites and to connect with these Christian communities.
---
---
Contact Us
Powered by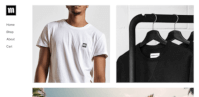 Create your own unique website with customizable templates.